You are invited to attend an online workshop
with Lisette Kielson
Charmed by yoDelightful Duos by Corrette, Chédeville, and Boismortier
Sunday, May 23, 2021 2:00 – 3:30 PM Eastern Time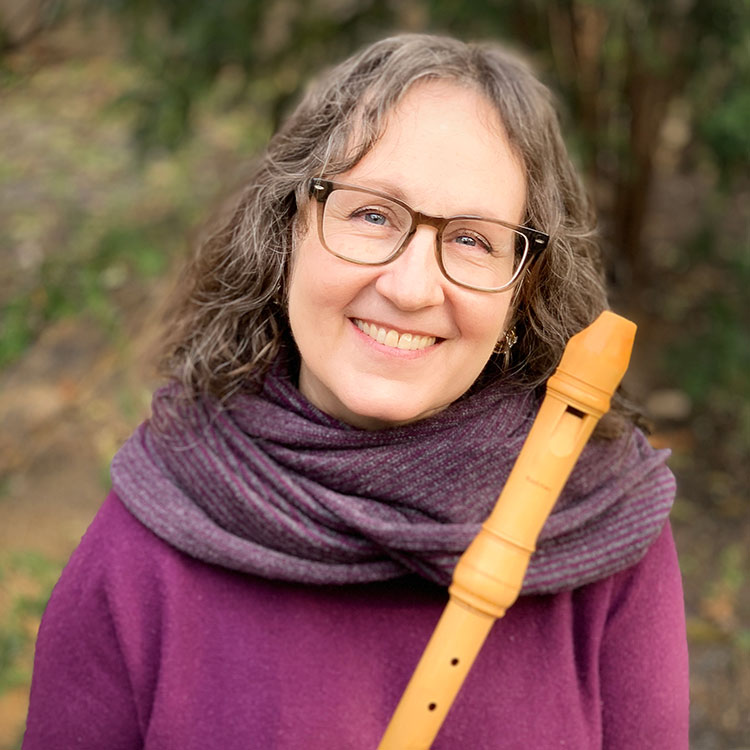 Lisette Kielson leads the HMRS in a virtual playing session of duets by 18th century French composers. These dances for the popular musette (or equal instruments) provide a wonderful point of departure for work on technique, musical style and expression and, of course, French ornamentation—the graces. You'll have the opportunity to play the same part with Lisette, the alternate duet line, or both (as there will be time to switch parts)! Geared toward intermediate and above SAT recorders and treble instruments. Pitch: A=440
Based in Central Illinois Lisette Kielson performs as soloist, chamber musician, and orchestral player throughout the Midwest. Past President of the ARS and former Director of Bradley University's Collegium Musicum, Lisette teaches on the faculty of the Whitewater Early Music Festival, serves as Music Director of the ARS Chicago Chapter, and leads workshops and masterclasses throughout the country (via her new best friend, Zoom)! Lisette holds Bachelor and Master Degrees in flute performance from Indiana University and a post-master's Diploma in recorder performance from The Royal Conservatory of The Hague. She has recorded with Centaur Records as well as with her own label. Read more at LisetteKielson.com.
HMRS Members: Free Guests: $10
Sign up details: Lisette Kielson Workshop Flyer
What is HMRS?
We are an interest group dedicated to the study, practice and performance of music for recorders and other early music instruments. Recorders are wind instruments that have existed for nearly 1000 years. Music for recorders was first written in the Middle Ages and is still being composed today. HMRS is a local chapter of the American Recorder Society with a rich history in the Capital District.
Who are the members?
Members come from all walks of life. Some have formal training in music but others simply enjoy music and want to learn, practice, play and perhaps, perform music in a group setting.
What activities do we sponsor?
In addition to regularly scheduled meetings led by chapter members or invited guest leaders, the chapter sponsors day-long workshops led by nationally acclaimed clinicians. The chapter also sponsors outreach events to promote the enjoyment of recorder music at various venues in the area.
When do we meet?
Regular meetings are held twice monthly from September through May. Meeting times rotate between Thursday evenings at 7 and Sunday afternoons at 1:30.
Where do we meet?
Meetings are held in the activity room of the Lynnwood Reformed Church in Guilderland, New York. The site is handicapped accessible with a large parking area.
Questions?
Email us at hmrecordersociety@gmail.com