HMRS —The Hudson Mohawk Recorder Society
Helen Hooker…Live!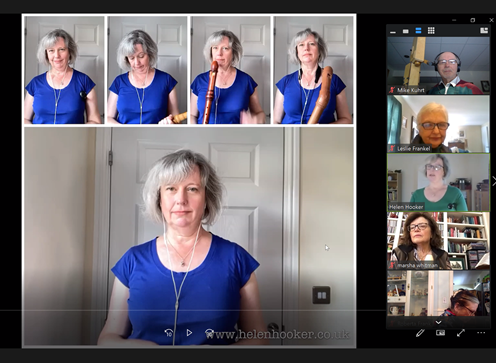 Our first virtual mini-workshop of 2022 featured a presentation by a pioneer of Youtube virtual play-along sessions, Helen Hooker. Helen presented encore presentations of several of her widely seen videos accompanied by a host of interesting background information, inciteful performance tips, historic tidbits and explanations and demonstrations of techniques ranging from adaptations of original notation to a comparison of Renaissance and Baroque ornamentation. The session was enjoyed by 34 participants.
Please note that all HMRS activities are virtual until it is safe to resume in person musical playing sessions.
What is HMRS?
We are an interest group dedicated to the study, practice and performance of music for recorders and other early music instruments. Recorders are wind instruments that have existed for nearly 1000 years. Music for recorders was first written in the Middle Ages and is still being composed today. HMRS is a local chapter of the American Recorder Society with a rich history in the Capital District.
Who are the members?
Members come from all walks of life. Some have formal training in music but others simply enjoy music and want to learn, practice, play and perhaps, perform music in a group setting.
What activities do we sponsor?
In addition to regularly scheduled meetings led by chapter members or invited guest leaders, the chapter sponsors day-long workshops led by nationally acclaimed clinicians. The chapter also sponsors outreach events to promote the enjoyment of recorder music at various venues in the area.
When do we meet?
Regular meetings are held twice monthly from September through May. Meeting times rotate between Thursday evenings at 7 and Sunday afternoons at 1:30.
Where do we meet?
Meetings are held in the activity room of the Lynnwood Reformed Church in Guilderland, New York. The site is handicapped accessible with a large parking area.
Questions?
Email us at president.hmrs@gmail.com